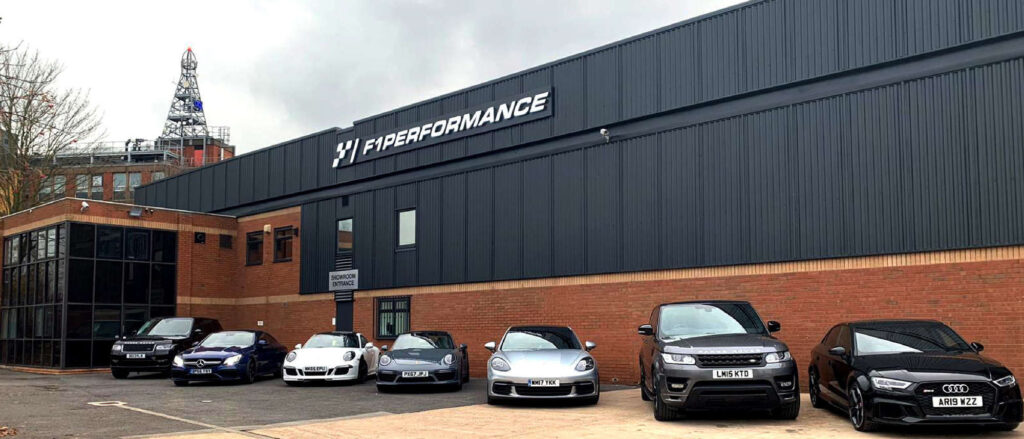 Time Frame Given - 2 months
F1 Performance is a high-performance car dealership selling luxury cars in a competitive market with rivals like Audi. They acquired an old building with sun-damaged and peeled plastic.
They needed to keep up with current trends and create a cohesive look for their commercial brand. In addition, the failed coating on the building needed a complete revamp and restoration.
We provided the client with visualisations of the building to choose a style for their project. Then, as expert commercial painters, we restored, refreshed, and resprayed the building, making it look new and modern.
Renovate, Respray, Brand & Refresh
Cladding 240 sqm

UPVC Windows and Frames

Metal Roller Shutters
Clean and degreased.

Scotched and sanded/flattened surfaced to ensure an even coat.

Metal panel areas were primed.

Base coat applied.

Top coat applied.

UV resistant paints used to avoid recurring issues.

Clean and tidy working areas maintained, as the business was functioning 24 hours a day, 7 days a weeek.
Our services and commercial painters  has saved tens of thousands of pounds by renovating and respraying instead of replacing the cladding and windows around the building. Once the signage had been installed the building looked like a newly refurbished property.
On Site Spraying, Powder Coatings, Commercial Respray, Commercial Contractors, Curtain Wall Spraying, Commercial Sprayers, Commercial Renovation