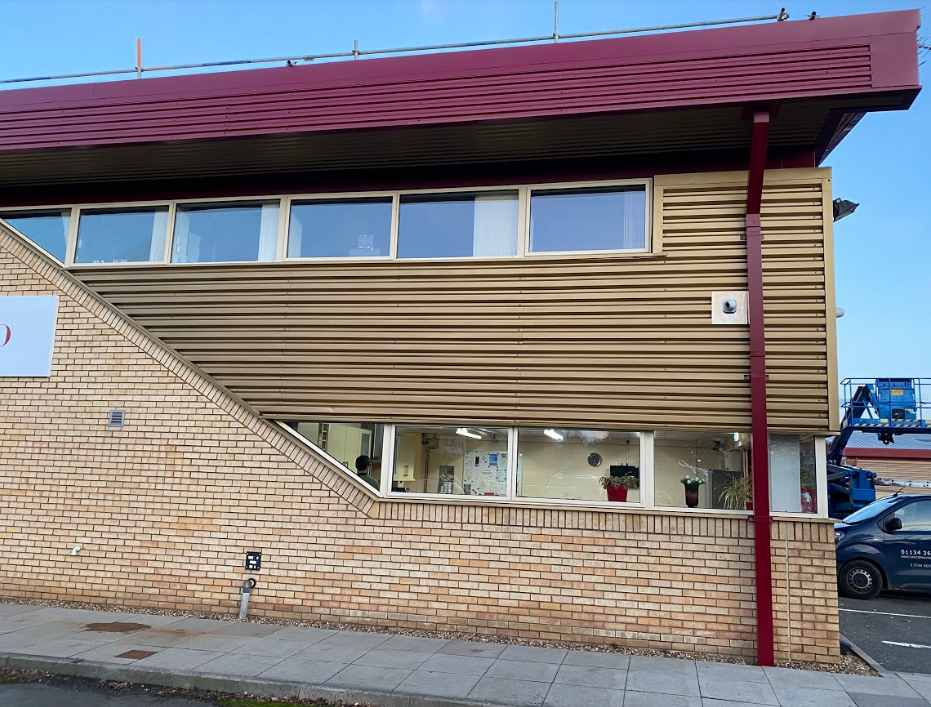 Time Frame Given - 2 weeks
Located in a business park Phoenix Fragrances, are a trending brand. They required their property to have a more modern, clean and polished exterior to give the best first impressions of their brand. 
Our commercial cladding spraying service was the perfect solution for their needs. We arranged a site visit and used our colour-matching service to establish the current property colours. 
All Cladding

All Roller Shutters

Window Frames
Door Frames

Staircase

Handrails
RAL 1036 Perigold – for the cladding on walls
RAL 3004 Purpurrot – for the edging, corners, fire escape
To jet wash and degrease all the areas of the building being sprayed.

Scotched and sanded/flattened surfaces to ensure an even coat.

All areas were primed.

Base coat applied.

Top coat applied.

UV resistant paints used to avoid fading.
Our respraying service transformed the property and allowed it to stand out from its neighbours. Phoenix Fragrances was delighted with the new look of their property. 
Choosing a respray was the fastest and most cost-effective method to refresh the cladding and details of the entire building, not disrupting the daily business schedule.
Cladding Spraying, Commercial Cladding Spraying, On Site Spraying, Powder Coatings, Commercial Spraying, Commercial Respray, Commercial Branding,  Commercial Spray Painting, Commercial Renovation, Panel Spraying, Roller Shutter Spraying, Roller Shutter Painting, Roller Shutter Door Spraying, Roller Shutter Door Painting, Roller Shutter Cleaning.